CTpro est une application mobile iOS qui intègre un workflow complet et professionnel de création de contenus audiovisuels. Conçu pour les journalistes, Community manager et tous les créateurs de vidéos.
PREMIUM
Abonnement mensuel
​
MULTI-USERS
et ENTREPRISE
General
How are you ensuring my safety during the COVID-19 pandemic?
---
We are dedicated to safety for both our customers and our team. PowerBros ATL offers contact free quotes, secure digital payments and our team wears masks when interacting with clients. Our cleaning solution is listed as an EPA effective agent in stopping the spread of COVID-19.
---
What is the No-Pressure Quote and Estimate?
---
We are here to be of service for you. That means providing free, upfront estimates backed by our helpful team of associates who are focused on providing a stress-free sales process. All of the pressure is saved for your amplifying your home, not the sales process.
---
What do you wash? Can I get my roof and windows cleaned?
---
Great question. We offer cleaning services of the most impactful areas of your home: driveways, paths and stairs. We focus on these areas to remain efficient and price leaders. We do not offer full home, roof or window cleaning. Our team can provide quotes for additional areas such as porches, decks and concreate slabs.
If you are interested in a service we do not offer, please call our office or email us at hello@powerbrosatl.com to speak with a member of our team.
---
How is PowerBros ATL different?
---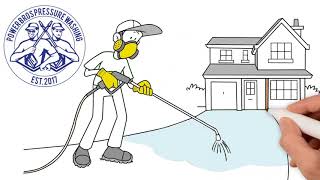 We specialize in the areas that impact the beauty of your home the most: driveways, paths and stairs. Our expertise combined with professional grade equipment enables us to offer the most competitive prices and provide the highest quality service in the industry.
---
Are you insured and licensed? What happens if there is damage?
---
Pressure washing is a safe way to remove dirt and biological material from surfaces. We train our team on proper cleaning and safety techniques that we use every time we come out to a property. In the unlikely event that damage occurs, we carry $1 Million in commercial insurance to ensure you are protected. Our 100% satisfaction guarantee highlights our commitment to our customers, and we will always make it right.
---
What certifications do you have?
---
We are a professional full-time team of pressure washing specialists who are licensed, insured and certified.
That's why we are Angie's List Certified and Screen & Approved by HomeAdvisor. Our team is dedicated ensuring the longevity of the planet and practice sustainability in our business as a Green Business Bureau Platinum company. We are also Official Member Contractors with Pressure Washers of North America and members of the Pressure Washing Resource Association.
---
Do you service my area?
---
Use our online No-Pressure Estimate to quickly determine service avaliability.
Our standard service area includes:
Atlanta, Avondale Estates, Clarkston, Decatur, Pine Lake, Scottdale, Tucker
Avondale Estates, Brookhaven, Buckhead, Chamblee, Chastain, Clarkston, Decatur, Doraville, Druid Hills, Briarcliff, Dunwoody, Edgewood, Little Five Points, Lake Claire, Emory Village, Druid Hills, Embry Hills, Garden Hills, Kirkwood, East Lake, Lenox, Midtown, Morningside, Oak Grove, Peachtree Battle, Pine Lake, Scottdale, Tucker, Virginia Highlands, West Paces Ferry, Northside
30002, 30021, 30030, 30031, 30032, 30033, 30034, 30035, 30036, 30037, 30072, 30073, 30079, 30083, 30084, 30305, 30306, 30307, 30309, 30317, 30319, 30322, 30324, 30326, 30327, 30329, 30333, 30338, 30340, 30341, 30342, 30345, 30346, 30348, 30355, 30356, 30359, 30360, 30362, 30366, 31119, 31126, 31141, 31145, 31146, 39901
Don't see your area listed? Give us a call at (770) 738-8129 or email at hello@powerbrosatl.com
---
When were you established?
---
Originally conceived as part of the Koval Talebagha Group, LLC in 2017, PowerBros ATL LLC started operating under its new name in 2020. As part of our legacy, we still pay homage to our initial vision that began in 2017.
---
What method of payment do you accept?
---
We offer contactless credit card transactions including American Express, Visa, Mastercard and Discover. Checks from major financial institutions and cash are also accepted.
---
---
Six questions to ask your next pressure washing company
1. Do you carry liability insurance? If an accident occurs on my property, who would pay for it?
---
We carry $1 Million in commercial insurance and, subject to our terms of service, will ensure any accidental damage is taken of by the PowerBros ATL LLC team.
---
2. What is included in the price?
---
Your custom estimate outlines our service offerings which vary by package. Included in every offering is our proprietary cleaning methods and 100% satisfaction guarantee.
---
3. How long will the job take? Do I need to be home?
---
Most of our services take approximately one (1) hour to service. No one is required to be present as we only service the exterior of your home.
---
4. Do you have references?
---
Check out our reviews on Angie's List, HomeAdvisor, Google and Facebook to see the latest 5-star reviews our team has received.
---
5. Do you belong to a trade organization?
---
Yes. We are official member contractors of Pressure Washers of North America and belong to the Pressure Washing Resource Association.
---
6. What kind of guarantee do you offer?
---
We offer a 100% satisfaction guarantee. Our team is confident in their work and will ensure you are too.
---
---